Baby, It's Cold Outside – So Let's Make Soup
The weather outside is frightful – seriously. The past few weeks led me on to believe that we were actually going to have a mild winter for once, something I've been praying for since that nor'easter we got on Christmas day back in 2010. As always, the season always packs a punch, and this past weekend proved to be just that. The winds were so cold that the polar bears that live up north were wearing jackets (and I'll bet hard cash on it, too).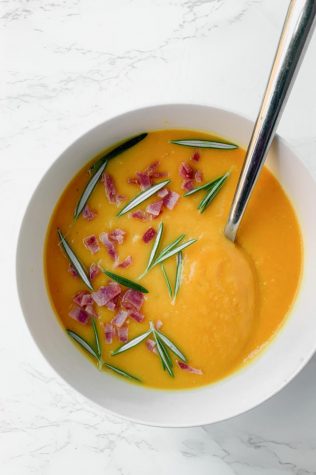 Needless to say, I think we're all in need of something that'll keep us warm during these hellish winter months. The solution to our seasonal woes is none other than soup (a.k.a. the coziest dish of them all).
Now, I'm not really a huge fan of making soup. When you think about it, although soup was made for those days when you don't really feel like cooking, it takes a lot of effort to whip it up. It also tends to get messy in my kitchen whenever I attempt to make it, which is why I usually stay away from all sorts of soup, stew, and everything in between. Except for this one – butternut squash soup.
I know what you're already thinking, and let me explain. Butternut squash soup is the epitome of the kind of soup that I said I hate cooking – and in essence, it's true. However, I like to call myself the master of finding "loopholes" when it comes to cooking, and this soup was no exception.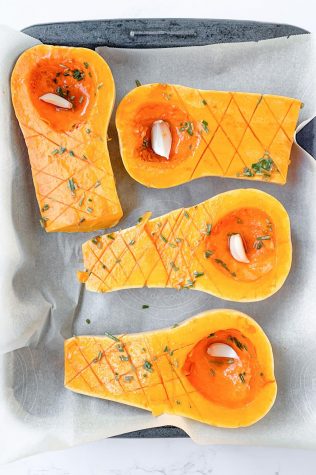 The recipe requires 90 minutes to make, but in reality, you'll most likely be on your feet cooking and chopping for 30 minutes tops. The rest of the time will be up to your oven and stove to finish the job, leaving you with an hour to do whatever you want. Do some laundry, watch some Netflix, catch up on homework…hence the reason why it's my favorite cozy/lazy day food.
The other reason why I love this recipe so much is because of the flavor it holds. My secret? A special glaze which you'll brush on the squash as if it were meat. Mmmm.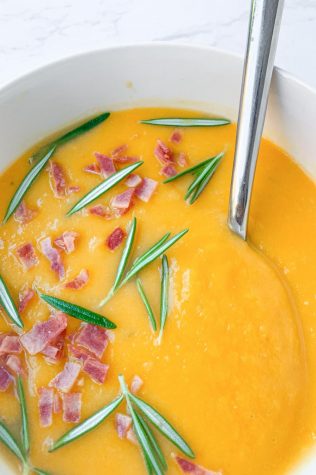 You might be tempted to use pre-chopped squash or try to manipulate this recipe more, but don't do it.
I've tried (and failed) many times to simplify this recipe as much as I could, and every attempt that required less time didn't have the same rich flavor that this one had, ya know?
Cheers to winter for introducing us to the land of soup – now let's go ahead, turn on the fireplace, and make some. 
GET THE RECIPE HERE:
https://allhaileaby.com/roasted-butternut-squash-soup/