Above the Influence, Under the Hybrid Model
As the school has moved into hybrid learning, many changes have been needed. Most visible have been the arrows in the hallways, the masks, the giant hand sanitizer bottles at the entrance, but smaller changes have occurred to, such as those to club regulations.
"We were all given a protocol," said Mr. Jay Dalessio, advisor to the Above the Influence Club. 
This protocol banned in-person assemblies, field trips, car washes, dine outs, and in-person guest speakers. As a result, all club meetings for the Above the Influence club are now on Zoom, and major events like Ice Cream Socials at the Soldier's Home were cancelled.
The club has had to be inventive in order to reimagine past events. Instead of going to the Soldier's Home, the club created and signed a collage of previous times there.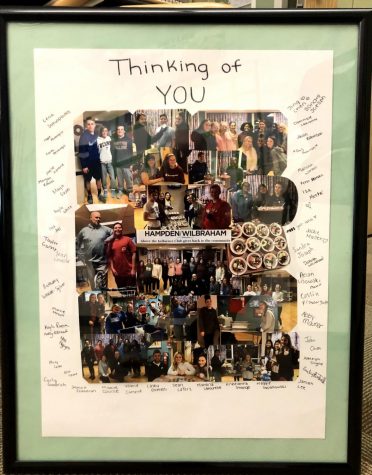 "We're going to give it to them as a 'we're thinking of you' type of thing," said co-president Jaclin Robinson.
For the club calendars that are typically made, vice president Dominique LaBranche worked with Dalessio to order special masks to wear in the pictures, which will be taken in socially distanced small groups.
"Not only will this make it look nice, it will be way cooler and show our support more if we're embracing that we need to wear masks," LaBranche said.
Though they could Photoshop the pictures, this gives them an option to be safe and still be together, which is a major part of the club's mission and one of the reasons Dalessio has been working on in-person events.
"Cohorts A, B, C, D… it's all tough. I wanted to make sure there was some kind of normalization," Dalessio said.
Although he misses seeing the cohort D students in person, there are some advantages to the club changes.
"I enjoy the Zoom meetings because I feel like it's easier to focus on it," Dalessio said.
He feels that the Google Slides presentations he is now using have made him more focused during club meetings. Overall, the club members share a sense of optimism about future activities in spite of the challenges.
"I think Mr. D has done a really good job of making sure we can do all the events," said co-president Jing Chen.
LaBranche agreed. "I'm really excited to get going this year. I think we have really creative people in the club who work really hard, so I think that in spite of COVID we'll still have fun and really big success."