It is a rainy autumn night as my mother drives through the darkness to our hotel in Foxborough. We're on our way to a Studio Two concert, one of several Beatles tribute bands I've seen since I first started listening to the Beatles in the summer of 2019.
The band occupies an invaluable place in my heart, as, at the tender age of eleven, they were one of the first artists I began to like on my own accord, rather than just enjoying whatever popular songs were on the radio. In the four years since music has become one of my great passions in life and has greatly influenced what I wish to do in my adulthood.
Having conversations with people about the music they're passionate about reminds me of the underlying similarities between us all in spite of our differences. It makes me happy to know that despite everything else, we can still find joy in dancing or sharing an emotional connection with others through the songs we love. I had a great time in Foxborough, so I'd like to share with you the music and food I enjoyed during my trip.
Citizen Crust (229 Patriot Place, Foxborough, MA)
Story continues below advertisement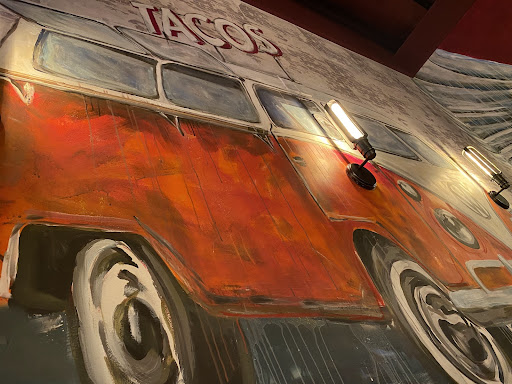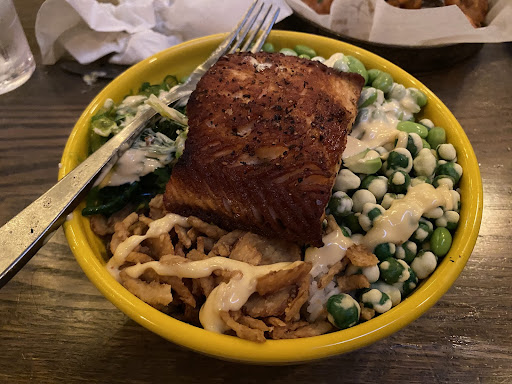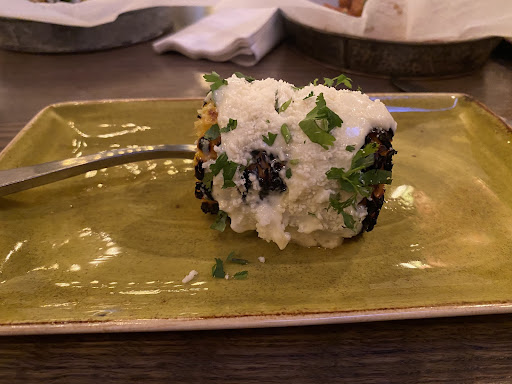 After checking into the Hilton Hotel we're staying at and dropping our stuff off, my Mom and I head to Citizen Crust for dinner. I've looked at places to eat at Patriot Place beforehand and decided on Citizen Crust for the varied cuisines they offer. My Mom's side of the family has a food palate as diverse as Sweden, so I know I have to take advantage.
The walls are decorated with urban street art, with the wall behind our table being decorated with a red hippie van and a dove. To my right, there's pop art print wallpaper that alternates between patterns of a painted mouth biting into a strawberry and a blood-orange elephant.
Having already decided on what I wanted online, I ordered a Guava Jarritos for my drink. It's pink in color comes in a glass bottle, and tastes like carbonated fruit juice, far less syrupy than American sodas like Cola or Sprite. (Jarritos is a Mexican company.)
For food, my Mom gets the smashed burger, while I get the Elote Street Corn as an appetizer, the Poke Bowl for my main course, and "Sexy Cauli" for the both of us, which is fried cauliflower with sweet soy garlic bang sauce. My corn is grilled and slathered with cotija, mayo, chili, garlic, cilantro, lime, and hot honey. Having had braces for the past several years, eating corn straight off the cob is a readjustment, but a worthwhile one. The grill gives the tops of the kernels a slightly charred flavor, which contrasts well with the creamy mayo and cotija cheese. My only wish was that the mayo had been slathered on both sides, as I had to spread it with my fork. Otherwise, it was a superb dish that I'd highly recommend.
For my main course, I have the Poke bowl, which consists of seaweed salad, edamame, avocado, jasmine rice, crispy onion, wasabi peas, everything seasoning, spicy mayo, and salmon, my meat of choice. What I like best about the dish is how well the textures of each ingredient worked together. The butteriness of the avocado, the crunchiness of the wasabi peas, and the tenderness of the salmon in particular, come together nicely to create a compelling meal.
I also try the Sexy Cauli, which is also good. The fried coating and the sauce that's on it nicely complement the cauliflower inside. If I were to go again, I would definitely be willing to order it as an appetizer. Overall, the place is a great experience, and if you're looking for some great food in a casual environment, Citizen Crust is the way to go.
Studio Two Concert (1 School Street, Foxborough, MA)
As Mom drove through the darkness, she switched the radio to a Beatles station, which played Buddy Holly and the Crickets, one of the Beatles' influences. (This is also due to the fact that thirteen studio albums released by the Beatles are not nearly enough material to play on a station on a regular basis, so they've got to throw in some Beatles-adjacent stuff for good measure.)
When we arrive, we park down the street from the theater. It's a pink building with a rainbow-colored fox statue sitting out front. The doodles on it remind me of those Jess Volinski coloring books I used to get at Michael's as a kid.
When we enter the building, we go up to the concession stand and get snacks. I get popcorn and water, while Mom gets a cup of white wine and chocolate-covered raisins.
Entering the venue, the room is fairly small compared to others I've been to, such as the Infinity Music Hall in Hartford. There's probably a hundred people at most in this room, with most of the people in it being old enough to have seen the Beatles live on the Ed Sullivan show back in 1964.
"Looks like I'm the youngest person in this room," I say to my Mom.
Just after I say that a young boy walks in with his father, upstaging my previous record of being the youngest person in the room.  I eventually go over and introduce myself. He says his name is Logan and that he's nine years old. I compliment him on his Beatles shirt and r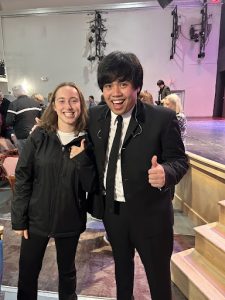 eturn to my seat.
The tribute act we are seeing tonight, Studio Two (a reference to the Beatles' recording studio at Abbey Road) has a setlist consisting mostly of their early work, from their debut album, Please Please Me, up until Revolver, when they stopped touring to spend more time getting freaky in the studio. Personally, I prefer the psychedelic rock of Sgt. Pepper to the more simplistic compositions of their earlier work, but I digress.
Like many tribute acts, the four guys playing the Beatles are dressed in suits and mop tops. I'm a bit surprised, I guess the guy who normally plays Paul must be M.I.A. The person
who filled in for Paul ended up being the best performer out of the four. Fake George and Fake Ringo don't really get to do much, and Fake John is good, but Fake Paul is the one who really shines. The Beatles were never the most captivating performers in real life, but Fake John and Paul have some good banter.
Crumbl Cookies (22 Patriot Place Suite 117B, Foxborough, MA)
Our last culinary escapade of note on the trip was to Crumble Cookies the next day. It's a cookie shop that rotates its menu weekly.
After checking out of our hotel room at 11, we walked over to the shop. It's a small place, with no indoor seating, just a counter and the kitchen behind it, where several workers knead cookie dough. The color scheme is minimalist, consisting of light pink, black, and white. We get an order of six cookies. The flavors are Molten Lava, Peanut Butter Chip, Pistachio, Cake Batter, Semi-Chocolate Chunk, and Cookie Dough.
Since we haven't eaten breakfast yet, we wait until we get home to try them. Opening the light pink box, I immediately go for the Chocolate Chunk. The chocolate is sweet, which contrasts well with the Kosher Salt sprinkled on top. Molten Lava is another favorite, with the inside being chocolate of a gooier consistency than the Chocolate Chunk one, but is tasty regardless. The Cake Batter and Cookie Dough ones are also good, with the toppings (cookie crumbles and bits of dough and chocolate) really adding to the overall flavors. Pistachio and Peanut Butter Chip aren't really standouts for me, but they're still good. The mint-colored cream topping of the former compliments the chocolate-flavored cookie, while the latter tastes like peanut butter and chocolate. How can you go wrong?