Female wrestler fights her way to the top
Minnechaug wrestler Gianna Daniele's formula for success is simple: hard work, perseverance and then a lot more hard work. With that formula in mind, it is no surprise the female wrestler placed second in the Girl's State Finals.
"I do MMA every day," Daniele said about her grueling daily training routine. "Usually about 4-5 hours a night. I go every day at 4 p.m. and leave around 9:15."
Although Daniele excelled as a wrestler, she hasn't been wrestling for long. In fact, she started this year. 
"I am a very hardworking person, so I automatically become better at whatever I do," Daniele said about how quickly she picked up the new skills. "I was at MMA and my coach told me that it's a really good idea to do wrestling. Wrestling is a huge part of MMA. So I was like, okay. I started wrestling at my MMA gym. But I needed to really wrestle on a team and get the full experience."
Daniele shared a moment where she felt most proud of herself during this past wrestling season.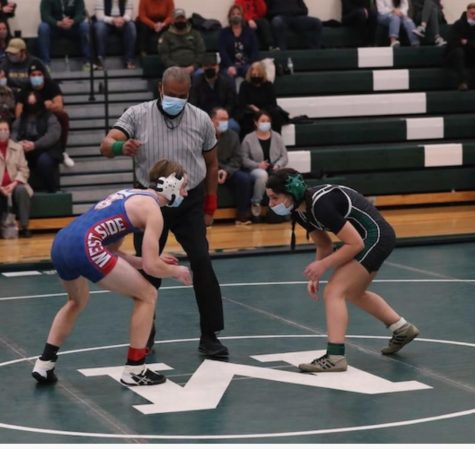 "I would say when I was going against this boy from Chicopee and it was his senior night. I was really nervous. I was down 8 and I came back. Then, we went 11-11. Then we went into overtime and I beat him." Danielle said. 
Even though she excelled at the 2022 MIAA Girls State Championship, Daniele has no intention of stopping there. 
"I think I may do nationals soon," Daniele said. "But I always go for first. But sometimes it just happens when you get caught and overthink. Hey, second out of like thirty girls is not bad at all. … Next time, I am going to get first."
Professional fighting could be in store for Daniele, too, as she explains how wrestling on a team came to be for her. "I use wrestling to help me get better at MMA," she said.
Even though she enjoys what she does, Daniele's favorite moment is the reward she receives after her fight. "When I get my hand raised, it's very rewarding," Daniele said. 
She knows at this moment that all her hard work has paid off. And no matter what the future has in store for this rising star, it will be great. Her effort and passion for her sport will take her to great lengths.
"By next season, I will be fully ready," she said.