Icing and candy-covered brains lined the left-hand side of the room, overflowing from counters, filling sinks, and covering desks. Many were placed upon tin foil and plastic trays, while others were inside jello molds or cake boxes. Each one was supposed to be a one-on-one replica of the human brain, hence this project, Brain Day.
Originally created in 2018 by Mrs. Hogan and carried over from the old 'Chaug building, Brain Day was continued in Hogan's honor with the addition of the random objects brain and the celebrity brain prompts.
During Brain Day, each student is given a choice of activities to demonstrate their knowledge of the brain and its functions. Those categories include the edible brain, the random objects brain, and the celebrity brain. 
Story continues below advertisement
"Brain Day allows students to process the information better," Mrs. Cofone, the AP Psychology teacher behind Brain Day, said. "They literally process it deeper."
The brain studies unit lasts 3 to 4 weeks, and each brain was judged by students and teachers in Human Anatomy and Biology. The students judged for neatness and understandability, and the teachers judged for accuracy.  
Students won awards for the best edible brain, best random objects brain, and best celebrity brain. One student earned the grand prize of the single best brain. But in the end, one winner was claimed as the overall grand prize winner of Brain Day, and this was Makayla Acevado. The winners for the other categories included Nora Kennedy (edible brain),  Veera Patel (random objects brain), and Katja Wurm (celebrity brain).
Lauren Lomascolo, a senior, created a three-dimensional brain, with its curves and folds piped with frosting, and domed into a tin foil baking tray. It resembled a holeless bundt cake or a Rolo candy.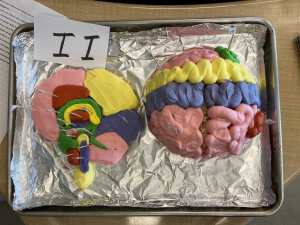 For her second brain, Lauren created a two-dimensional project, showing the inside of her three-dimensional brain. 
"I was nervous because there was a lot to figure out and a lot to get done," Lomascolo said in an email about her two creations. Finishing the project required hours of focus. "It took me about four hours to complete the edible part and about two to three hours to do the written portion and plan out my brain." 
Lomascolo enjoyed this project from start to finish.
 "The edible brain was my initial choice and I stuck with it. I love to bake and decorate so it was fun for me to be able to use those skills for a school assignment," she said.
Roman Kavanagh, a senior, created a single brain that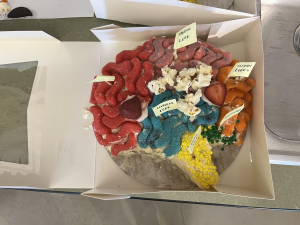 mixed different forms of sweets, candies, and savory snacks.
"It was a LONG process and I'm really glad it paid off," Kavanagh said of his project, adding that it was challenging. "I'm not a sculptor." 
Just like Lomascolo, Kavanagh enjoyed the work.
"I had a lot of fun making it and despite the time it was a very fun assignment," Kavanagh said.
Kavanagh said the project helped him understand the anatomy of the brain. 
"I love each part of AP Psych. It lets me get creative with my projects and go beyond textbook learning," he said.