The Person Behind the Camera: Sophomore Chronicles Sports through Photos
Coming home after a long day of photographing six athletic games, Sofia DiGrande was exhausted. She sat on her bed looking at messages on her phone from people wanting photos.
She walked over to her camera, only to see all the photos were gone. "I was so nervous because all these students and teams wanted photos that I didn't have," DiGrande said. 
DiGrande, a 15-year-old sophomore at Minnechaug, is a familiar face for students and staff. You might see her on the sidelines of games or pointing her camera up at the student section during Friday night football. That's because DiGrande runs her own photography page (@sofdigphotgraphy) as well as the school athletic page: @chaugathlethics. 
"I first got into photography when I noticed that the Instagram for Minnechaug seemed a little unprofessional , and didn't resemble what we are as Minnechaug," DiGrande said. 
Digrande, who had a camera, wanted a new hobby to pursue. She reached out to the director of Athletics, Michael Roy, and asked if he needed some help. Roy said yes and DiGrande started photgraphing games.
"He started posting the pictures soon after that and little by little I got more involved," DiGrande said. 
Soon enough DiGrande was running the Chaug Athletics account on Instagram.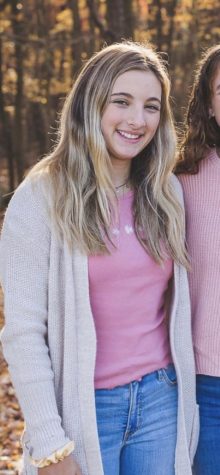 Meanwhile, her sister Lilli DiGrande, who was making her way on the student newspaper, eventually becoming a news editor, also inspired Sofia to take photos. "Lilli found it very relaxing, and after I saw her find joy in it I thought it would be a good hobby to try out," DiGrande said.
At first, though, her pictures were not so good. "They didn't come out great," DiGrande admitted. "But looking back at my first few posts compared to now, seeing how much my editing style has improved, I see how much my photography in general has changed." 
With her photography work, DiGrande stays busy all the time. She talks about always being at Minnechaug, and having at least a game a day to photograph. "My day looks like leaving Chaug going home and then coming back," DiGrande said. 
She attends almost every single home game. Due to this she is always seeing people and interacting with the students and staff. 
"I enjoy the environment and enjoy all the friends and followers I've made because of it. When I'm on the side lines I can make friends and talk to people there," DiGrande said. 
When she ends up going home at the end of the night, she's always asked for the photos from the games she photographed. 
"A lot of people reach out for pictures which is sometimes stressful," DiGrande said. 
In one situation, she was coming home from a very long day of taking photos for six games and her camera's memory card ended up being broken, which meant all her photos were deleted. "It was so stressful and frustrating to see all your hard work go to waste," DiGrande said. 
Yet, problems like these become learning experiences. To help her with things like broken SD cards, for example, she often looks up how-to videos. "I watch YoutTube videos to help me with questions I have," DiGrande explained. 
She also spends a lot of time getting to know how to use her camera. For one game she was unsure on how to capture a shot, so she looked up different videos to help her understand what angles are best for what sports. 
She doesn't want to depart from her camera any time soon. "In the future I hope to pursue either an internship or a career in photography," she said.