Celebrating in a Pandemic
Ideas on how to 'get together' while socially distancing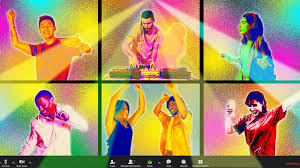 With COVID-19 reaching a second peak and death tolls on the rise nationwide, many people are struggling to find ways to celebrate while still keeping their family safe, and staying on a tight budget.
People nationwide are longing to see their relatives and friends in person for the holiday season, but it is too dangerous for many. As many have said, it is better to miss them this year than to miss them for the rest of your life.
However, there are still fun, safe, and inexpensive ways for families to celebrate the holidays, without risking their health or their wallet. 
Millions of people have been struggling to make ends meet, this year having hit hard with unemployment and medical bills. Despite this, they still want their children to receive special gifts for the holiday. Several people got together and began to brainstorm ideas for you and your family to still celebrate and give gifts without straining any restrictions, COVID or money wise. 
Have a Zoom movie night. Gather your family and friends together through a zoom meeting and have someone share one of their favorite holiday movies. You can use one of the streaming services on your device to share a fun movie for all. 

Drop off presents at each other's houses and then Zoom or FaceTime or Skype in order to open them together.

If the weather is nice enough, you can all gather outside and chat for a while, with your masks on of course. 

Have a parade! Many people were having fun birthday parades during last spring. You can decorate your car in accordance with the holiday and have drive by parades for you and your loved ones.

Bake a special treat for your friends and family and drop it off at their house. This way you can all enjoy that traditional holiday food together, without endangering your health.

Set up a Zoom meeting and read your family's favorite holiday book or tell a special holiday story. 

Countdown the New Year together! Get your whole family on a Zoom call and count down the New Year as a big group, you can even drop off mini goodies at people's houses and a special New Years beverage. 

If you have a family with some younger children, or if you just like to sled, a few family members or friends can meet up outside with masks to all go sledding together. This can get you outside and help you have some fun!

Drop of arts and crafts supplies to your family's houses. Then you can all Zoom and do crafts together.

You can have some of your family or friends meet up at a tree farm and all pick out a tree together. Then you can go to someone's yard and decorate the tree outdoors. 

You can have a bonfire in someone's yard and exchange gifts and pleasantries, and even make your own s'mores (make sure every immediate family has their own s'mores supplies).

Have an outdoor movie night. Set up a large white sheet and some socially distanced pillows, blankets, or chairs. You can use a projector, your computer, and a streaming service in order to play a movie for the whole family. 
All of these tasks can help you have a fun holiday with many of your traditions, without endangering anyone's health. You may not be able to celebrate in a completely normal way, but you can at least see your family through the screen and engage in your special traditions.