A Review of "Can't Take That Away" by Steven Salvatore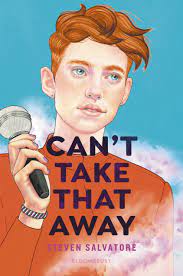 Can't Take That Away by Steven Salvatore is a realistic fiction novel that focuses on the character Carey, a gender fluid teen who is struggling to discover their voice as they make their way in high school. We follow Carey as they take care of their grandmother, begin to fall in love, rediscover their passion for singing, and learn that they have more power than they believe. This story highlights the struggles that many gender non-conforming people, especially teens in high school, face, but it also shows that there is more to Carey than just being a gender fluid teen.
Many books with LGBTQ+ characters tend to focus solely on the character's struggle to come out and be accepted by their peers amd families and, while this is an important topic to discuss and read about, it's important to show that these teens can have more in their lives than just the struggle of coming out. Can't Take That Away does a fantastic job of portraying that. The book starts after Carey has already come out, and they are accepted by their family and friends. Now, readers are able to see the struggles and rewards that can happen after a person has come out to their peers, as someone's life doesn't stop after they faced one trial.
Reading through Carey's journey as they learn to stand up for themselves and discover how they can use their voice, I couldn't help but find myself moved and inspired. After I finished reading it for the first time, I immediately told my friends that it was a book worth getting into, and that they should pick it up on a day where they had plenty of free time, as once they started to read they may find it difficult to stop.
Can't Take That Away is one of my favorite books that I have read recently. I read it twice in the past year, and it still managed to draw me in on the second read through. It has the perfect balance of successes and failures, romance and heartbreak, and loss and rediscovery. I would recommend it to any reader who loves Mariah Carey (trust me, you'll get that reference soon) or a reader who likes a realistic fiction novel that cuts right to the heart, having them laugh and cry, sometimes both at the same time, while they cheer their favorite characters on.