Banana Oat Muffins that Make the New Year a Little Less Daunting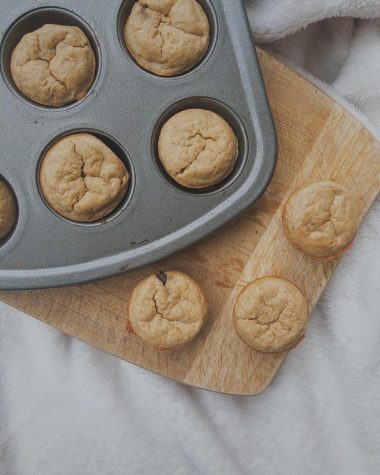 The New Year: a symbol of change, ambition, and optimism for the upcoming 365 days of 2022. 
While many tend to seize the transition from one year to the next as a time to reflect and create resolutions upon resolutions, holding onto the hope that things will get better, I find the whole practice entirely and utterly useless. 
Perhaps my experiences from past attempts in accomplishing my New Year's goals have left a sour imprint on my perception of resolutions, but in all honesty, they never seem to work. Ever. 
I stopped making New Year's resolutions two years ago. I tried eating healthier, reading more, staying off of TikTok and Instagram, and even trying to regularly work out (LOL), but I was never successful. The countless amounts of "Day 1" progress photos in my camera roll, the expired protein supplement shakes in my fridge, and my 7+ hour screen time have all disproved the theory that resolutions are doable. 
Moreover, it's toxic. When I wasn't able to fulfill the goals I had laid out for myself on January 1, 2020, I felt immensely disappointed in myself and questioned my ability to endure challenges and tackle difficult tasks throughout life – was I really a failure?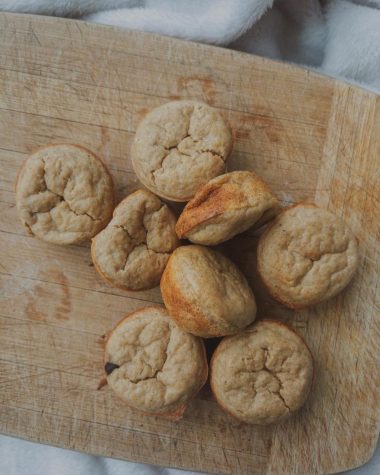 You see, that is where the fault lies in New Year's resolutions. A list of several goals you wish to see yourself complete should not be as definite as resolutions set them to be. Things change. Life happens. 
But most importantly, you grow as an individual. Who you envisioned yourself becoming at the beginning of the year can morph into a completely different person mid-year. You may want to go off to college at the moment, but who knows? Maybe you'll end up pursuing a gap year or go into the workforce because it is time, steered by the reins of fate and destiny, that is in control. 
So, what do muffins have anything to do with this prophecy? 
Well, although I do not believe in resolutions, I do believe in making your body feel good – mentally, physically, and spiritually. In doing so, you can harvest empowerment which fuels the change that will make you the best version of yourself. And these muffins do just that.
Plus, they taste good too. 
With only 5 simple ingredients, these banana oatmeal muffins are a cheap, sustainable, and decadent treat to house in your pantry on your journey to boss-hood (is that a word?). 
Grab a muffin tin, some bowls and utensils, and let's start cooking!
FLUFFY BANANA OATMEAL MUFFINS RECIPE
To make this sweet treat, you will need:
1 cup Oatmeal

1 Banana (the riper, the better!)

3 tablespoons peanut butter (or any nut butter)

3 tablespoons maple syrup 

½ cup semi-sweet chocolate chips

1 cup plant-based milk
METHOD
Combine all the ingredients, excluding the chocolate chips, in a blender or food processor for 30-60 seconds.

Remove the batter from the blender/food processor & add the chocolate chips

Spray a muffin tin with cooking spray and divide the batter amongst each muffin cup.

Bake at 400 F for 20-25 minutes or until golden brown.

Serve warm and enjoy!